So I recently, on sunday, took in an iguana. I had recieved an email from a gentlemen that asked if I was able to take one in. He said that he had went to go pick up an Asian water monitor from another guy and that guy had offered him the iggy as well. He was not going to take him due to not having the room for an iguana, but after seeing how he was being kept he could not leave him. The iggy was being housed (if you can call it that) in a cold bathroom.
I said I should be able to take him in but it would take a few days to get stuff together for him. So I began building up an enclosure for the iggy.
Frame-

Screen and framed more-

With doors-

Finished-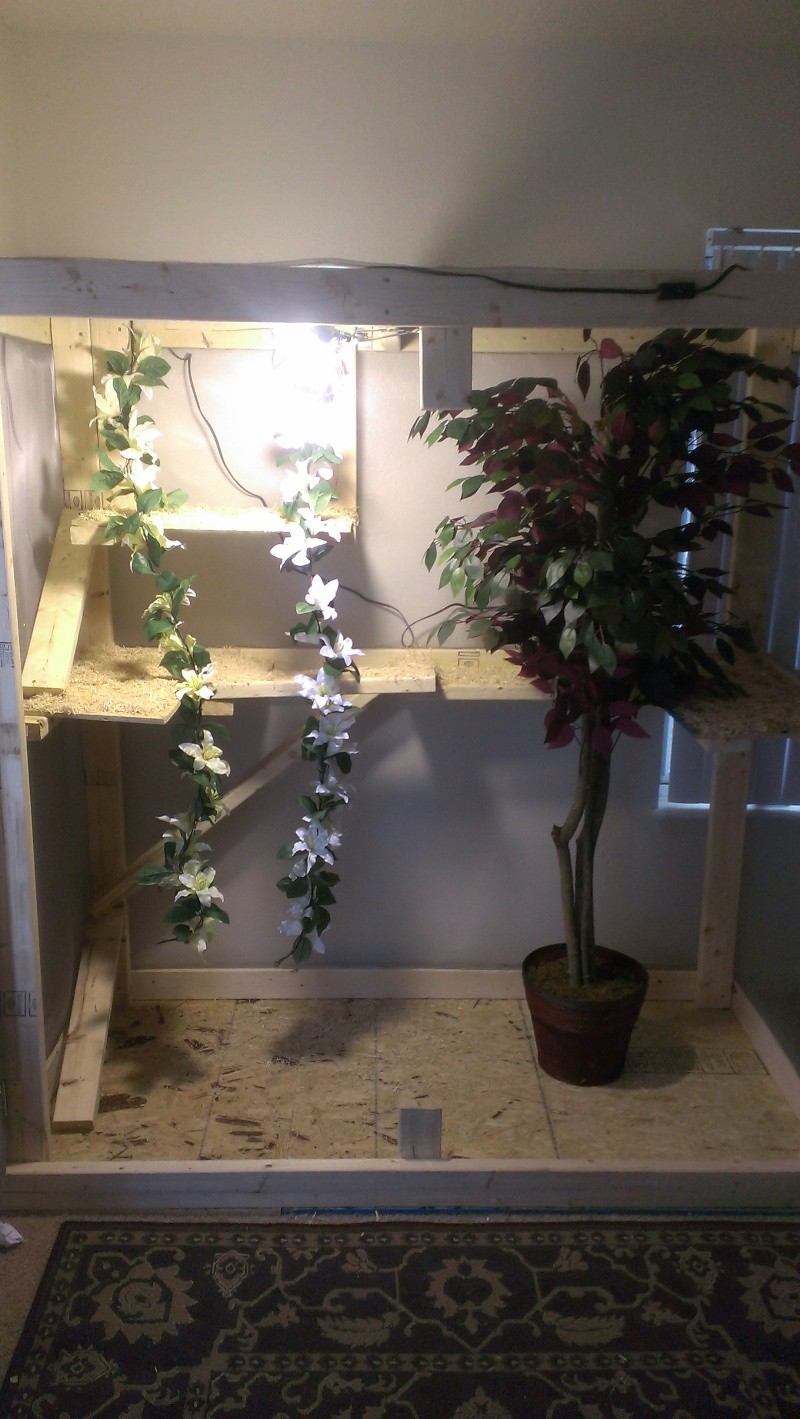 Now this would have been a great set up for a normal healthy iggy, at least for the start, I still had plans to make it a lot more over time, but then we went and got the guy. He is in some bad shape, way underfed, lacking calcium like crazy, very lethargic, partial shed still attached, dehydrated, misformed toes and nails, stunted growth, the last bit of tail missing etc. No mites though lol. But quickly we realized that the inside desgin was not going to work. We had put him on one of the perches under the light to warm him up, he chilled there for about 30 minutes then decided to try and jump down from the perch. Luckily I caught him, I know iggys can take a fall from hieghts upwards of 50 feet, but I honestly don't think he would survive the 4-5 foot fall from the perch. So he is currently on the ground level, yes I know not ideal for iggys but his situation is unique.
I moved around some things, brought the heat/uv light down so its nice and warm on the bottom level, I also set up another heat lamp so that he would be at higher temps through out the night (its not a white light, he gets 12 hours of white light a day) to try and boost his immune system.
Sunday he would not eat or drink and I did not try and force it, I wanted him to adjust to his new home first. Last night I went out and bought a wide varity of veggies and fruits (in fear of him being picky and needing different veggies then what I had already got) and some Gatorade and a needless syringe. We did not get him to eat last night, but we did get him to drink some of the 40/60 gatorade/water solution from the syringe. It was a slow process and he did not take a whole lot, but he did drink which is a huge step in the right direction. After we can regularly get him drinking and start getting him eating im going to slowly start adding walkways and ledges for him... Tonight we are continueing the same, plus I'm going to give him a good long soak and hopefully get some of that shed off and him a bit more rehydrated.
Some more pics...
On the ride home...


Reptar when we first got him home on the hot platform...

Last night giving him some fluids...